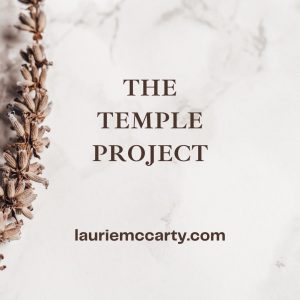 Part 1:  What is God Building?
It is my distinct pleasure to remind you that God is building YOU!  That's right, you are a beautiful work in progress, no matter how it looks and feels to you right now,  Each and every trial, tribulation, victory, and failure are part of His plan to build you into a stronger, more compassionate, greater-loving you.  He's building you to be more like Him – peaceful, joyful, holy, and full of glory.
The Old and Glorious
The magnificent temples of the Old Testament were built from the blueprints of heaven given to the spiritual leaders in order to duplicate an earthly version of the heavenly temple.  These earthly temples were built from the outside-in of the finest materials.  And gold.  Lots of shiny, brilliant gold. (See 1 Kings 6-8, 2 Chronicles 5-7, Ezra 3)  After the framework was built, the inner rooms were constructed, ornately decorated, and made ready for the presence of the Lord to fill them.  In fact, the presence of the Lord overwhelmed them with power and glory.  "It happened that when the priests came from the holy place, the cloud filled the house of the Lord, so that the priests could not stand to minister because of the cloud, for the glory of the Lord filled the house of the Lord."  (1 Kings 8:10-11)
The New and Glorious
Here's where it gets even better!  "Do you not know that you are a temple of God and that the Spirit of God dwells in you?  If any man destroys the temple of God, God will destroy him, for the temple of God is holy, and that is what you are."  (1 Corinthians 3:16-17)  That's how much God values you.  That's how much He will fill you and protect you.  And yes, because of Jesus's work in you and for you, you are holy.  You can ask Him for more of His Holy Spirit and His glory,  He is willing to fill you as He filled the temples of old.
You as a Temple
So how do we function as a temple of God?  First, we can realize that we have within ourselves the capacity to worship God.  Our being can be a place of worship. praise, obedience, and gratefulness to God.  "Therefore I urge you, brethren, by the mercies of God, to present your bodies a living and holy sacrifice, acceptable to God, which is your spiritual service of worship."  (Romans 12:1)  How can we make progress there?  Our transformed minds.
Our Transformed Minds
"And do not be conformed to this world, but be transformed by the renewing of your mind, so that you may prove what the will of God is, that which is good and acceptable and perfect.  For through grace given to me I say to everyone among you not to think more highly of himself that he ought to think; but to think so as to have sound judgment, as God has allotted to each a measure of faith."  (Romans 12:2-3)  The Word of God and the Holy Spirit work together to help us think well.  Some of our old ways of thinking have derailed us, and God is eager to fill each of his people with wisdom, faith, and good judgment.  We have access to all these as His precious ones.
A Place of Revelation
As we invite God's presence to fill our temple, He will show us things about Him, about ourselves, and about important life strategies that we need to know.  We will know things we could not know otherwise.  He leads us in His ways, on His paths, and for His purposes.  We only have partial knowledge on this earth, but God gives us what we need to live a victorious life.  "For now we see in a mirror dimly, but then face to face, now I know in part, but then I will know fully just as I also have been fully known."  (1 Corinthians 13:12)
A Place of Beauty
The physical temples of old were places of distinct and overwhelming beauty.  The creativity, the artwork, the exercising of gifts and talents to glorify God were clearly evident.  The same is true inside of you.  God has gifted you with ideas and talents for you to use.  He is also making  YOU more beautiful on the inside.  He's filling you with the love and grace that comes from Him.  Even through those trials and tribulations, He can give you a demeanor that can only come from one who knows and trusts their loving God.
A Temple for a Lifetime and Beyond
Through it all, He's building relationship with you that will last forever.  That is the promise for those who follow God and His ways.  His transformation on the inside of your temple may not always be quick.  It took Solomon and thousands of craftspeople seven years to complete the temple of the Lord.  Expect Him to love you enough to work on you for your lifetime.  Even the advanced Apostle Paul says, "Not that I have already obtained it or have already become perfect, but I press on so that I may lay hold of that for which also I was laid hold of by Christ Jesus.  Brethren, I do not regard myself as having laid hold of it yet; but one thing I do:  forgetting what lies behind and reaching forward to what lies ahead, I press on toward the goal for the prize of the upward call of God in Christ Jesus."  (Philippians 3:12-14)
Stay tuned for The Temple Project Part 2:  God is Building US!