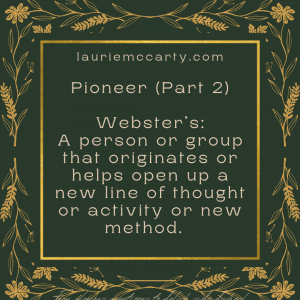 Last time, we discovered that Jesus is the original Pioneer.  He has gone before us, has paved the way for us, and there is no place we can go where He hasn't already been.  He gives us the assurance of His presence as we go along in life, forging ahead, and doing new things.  He makes us better pioneers!
Merriam Webster online definition 2 for the word "pioneer" reads as follows:  "A person or group that originates or helps open up a new line of thought or activity or new method."
Can you think of any other person who has turned the world upside down more than Jesus and his friends?  Mindsets, cultural norms, outward religious practices, and a host of other changes swept into the world with the words and actions of Jesus.  He treated people with love and fairness.  He hung out with religious outcasts.  He approached and healed the lepers, the sick, and the diseases.  He broke every taboo, and loved everyone in the process.
A new line of thought was spoken with power and authority in the Sermon on the Mount.  Just a few snippets from that sermon:
"You have heard that it was said to those of old, 'You shall not murder, and whoever murders will be in danger of judgment.'  But I say to you that whoever is angry with his brother without a cause shall be in danger of judgment.  And whoever says to his brother, 'Raca!' (worthless) shall be in danger of the council.  But whoever says, 'You fool!' shall be in danger of hellfire…
You have heard that it was said to those of old, 'You shall not commit adultery.  But I say to you that whoever looks at a woman to lust for her has already committed adultery with her in his heart…
You have heard that it was said, 'You shall love your neighbor and hate your enemy.  But I say to you, love your enemies, bless those who curse you, do good to those who hate you, and pray for those who spitefully use you and persecute you, that you may be sons of your Father in heaven; for He makes His sun rise on the evil and the good, and sends rain on the just and on the unjust."  (Matthew 5:21-45) NKJV
Jesus was making His point – God looks on the heart of each person and desires that our devotion to Him would be from the heart and not just empty external practices.  He was preparing peoples' mindsets for the biggest change of all:  a new covenant with God's people.  No longer would they have to live under the burden of sin and oppression.  They would be able to release and freedom through the sacrifice of His life to take our punishment.  Following Jesus in faith would mean that God would be able to guide them from the inside, rather than instruct from the outside.
Jesus was the first and only to die a sacrificial death for others, and rise from the dead as was prophesied He would.  He is truly the Pioneer that defeated death and sin, and is the Way for us to follow.  In loving sacrifice, and as love embodied, He turned the world upside down to benefit all mankind.  Now we can live a life of love and freedom because of Him.  The best Pioneer.  Ever.
(Stay tuned for Pioneer Part 3.)